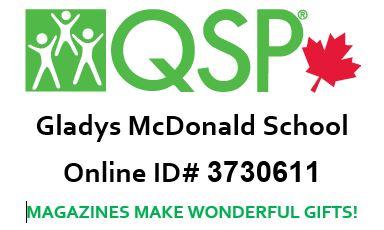 We Need Your Help!
The staff and students of Gladys McDonald School are fundraising for special equipment and classroom supplies. There are two very easy ways that you can help!
1) SEND EMAILS!
Go to QSP.CA/TOOLS to register and send emails to family and friends.  Students receive a special prize when they have sent 12 emails!
2) SHARE CATALOGUES!
Share the QSP order catalogues with family, friends, co-workers, and business associates.  Orders can be made by filling out the form in the catalogue, or online.
Make cheques payable to Gladys McDonald School SCC.
PRIZES, PRIZES, PRIZES!
-All sellers will be eligible for daily draws!
-Top seller in each class will get to MAKE UP THEIR TEACHER FOR THE DAY!
-Top selling class will earn a CLASS PIZZA PARTY!
-The School's TOP SELLER will earn RESERVED SEATING AT THE FIRESIDE FESTIVAL!
Thank you for your support!
The Gladys McDonald School Community Council